Zuwwar Ennabi Gnawa Ensemble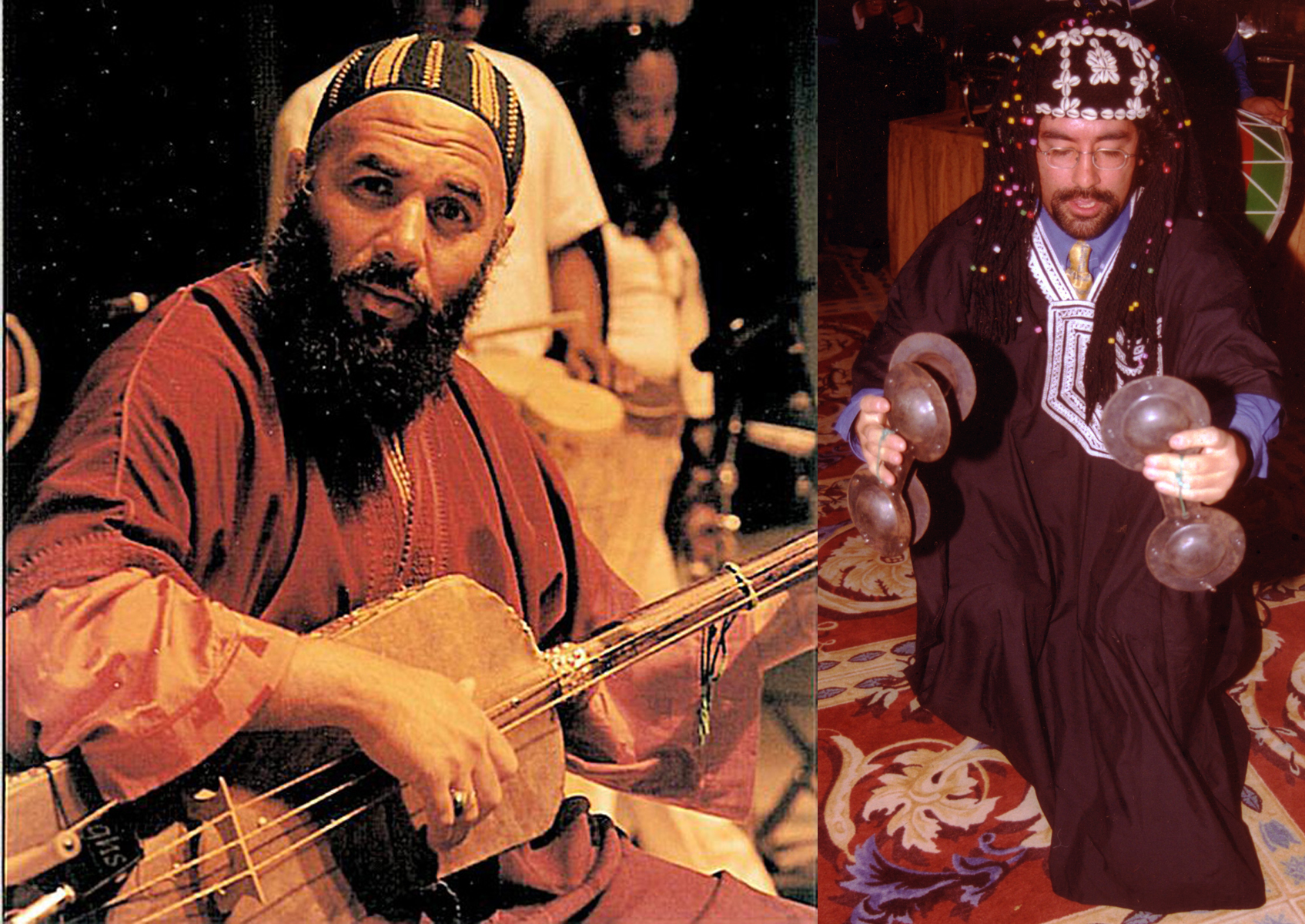 Zuwwar Ennabi Gnawa Ensemble is the first Bay Area group dedicated exclusively to Moroccan Gnawa music and dance. The group is led by Bay Area Moroccan musician and storyteller Yassir Chadly and musician and scholar Tim Abdellah Fuson. Their performances feature joyful ceremonial dances, songs of hope, faith and transformation, the incessant clacking of qarqaba (iron clappers), and the deep trance funk grooves of the guinbri (three-stringed bass lute). Zuwwar Ennabi ("the visitors of the Prophet") offer a rare opportunity to get a dose of undiluted Gnawa music west of Casablanca.

Born in Casablanca, Morocco, Yassir Chadly has made the USA his home since 1977 and has been performing and recording Moroccan music here since that time. He is a gifted musician of many traditional Moroccan instruments including the oud, gimbri, karkabas, darbuka, fretless banjo, tarija and bender, Yassir is one of the first Moroccan artists to introduce his native music to American audiences. In addition to performing in Moroccan traditional genres, he has collaborated with jazz artists Steve Coleman, Randy Weston, Omar Sosa, and performs with Mo'Rockin' Project.

Tim Abdellah Fuson has been playing Gnawa music for nearly 20 years, both in the Bay Area and in Marrakech where he spent several years researching and attending Gnawa ceremonies. He is a member of several North African ensembles, including The Dunes (North African Grooves band) and Moh Alileche's (Algerian Amazigh) ensemble. He holds a Ph.D. in ethnomusicology from UC Berkeley, where he wrote his dissertation on Gnawa ritual music and where he currently lectures.

Yassir and Tim have together performed Moroccan music with Lines Ballet and with jazz legend Pharaoh Sanders. They currently teach the Gnawa Music and Movement class at Zambaleta in San Francisco.
---
Upcoming Appearances
Saturday, March 12, 2011 8:00PM
YASSIR CHADLY and ZUWWAR ENNABI GNAWA ENSEMBLE featuring TIM ABDELLAH FUSON
La Peņa
3105 Shattuck Avenue
Berkeley, CA 94705
$12 advance/$14 door

---
More Info on Zuwwar Ennabi and on Gnawa of Morocco
Yassir Chadly
Tim Abdellah Fuson
The Gnawa and Their Lila
Afropop Worldwide: Traveling Spirit Masters: The Gnawa of Morocco (radio documentary)
contact us